O desafio aqui foi criar uma identidade visual para "Mara Nogueira", uma mulher empreendedora se lançando no mercado de coaching de imagem e consultoria de varejo. Eu tive que descobrir um jeito de deixar claro os serviços que serão prestados, pois são públicos muito diferentes (que eu nomeei de CPF e CNPJ) e a comunicação tem que ser adequada para cada um deles.
Além disso, contornar a "arrogância" (selecionada como atributo que não tem a ver) quando aplicarmos o "moderno" e "elegante" na marca.
The challenge here was to create a visual identity for "Mara Nogueira", an businesswoman launching herself into the Image Coaching and Retail Image Consulting market. I had to find a way to make clear the services that will be provided, as they are very different audiences (which I named CPF and CNPJ) and the communication has to be right for each one of them. In addition, supress "arrogance" when applying "modern" and "elegant" in the brand.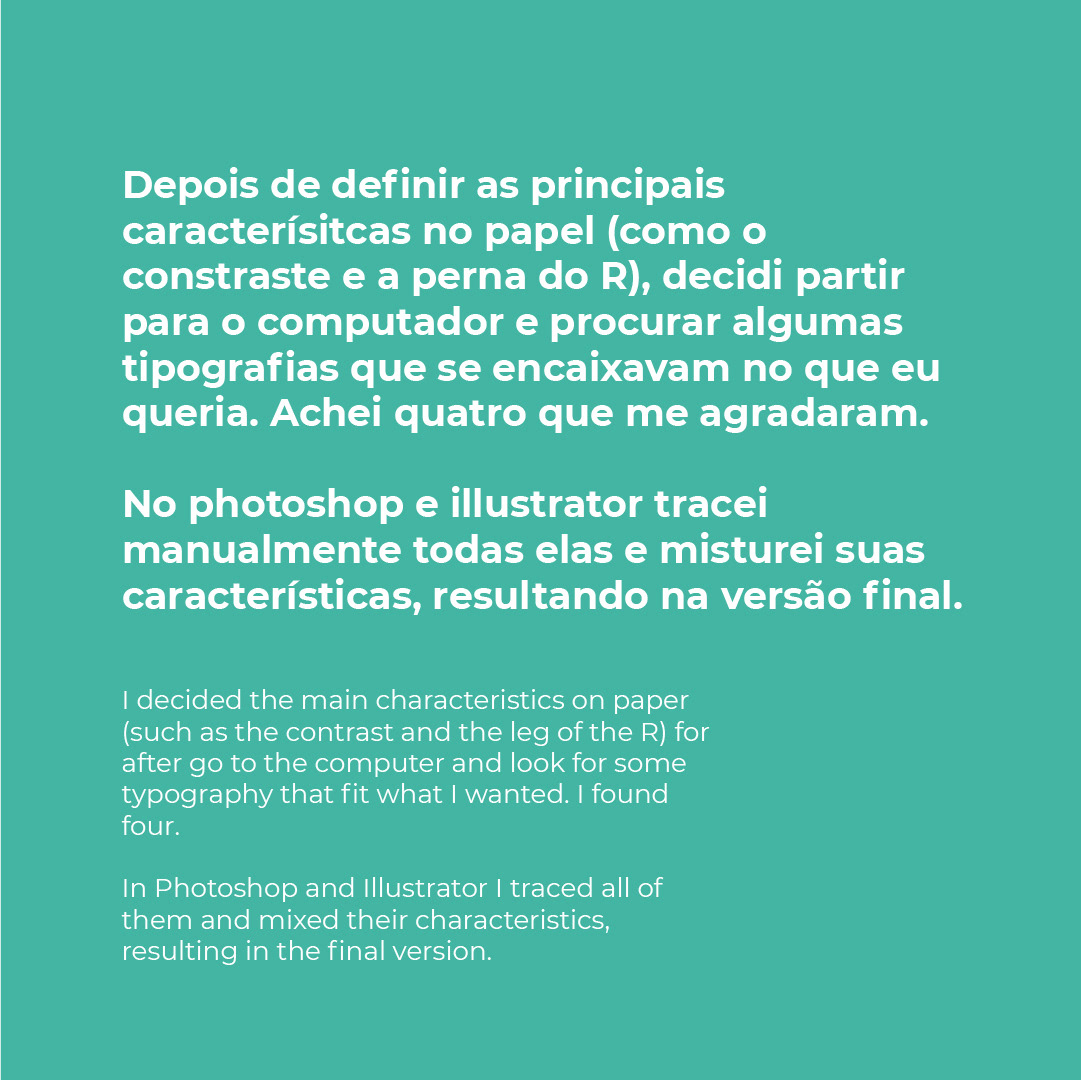 O azul e o verde são as cores da confiança e do profissionalismo que gostaria de transmitir. Por isso, nada mais justo que eu escolher uma cor que fica bem entre essas duas, porém continuando com a sofisticação que é a base da marca.

O preto é uma cor básica em qualquer marca. Querendo ou não ele vai sempre estar lá, mas para "Mara Nogueira" ele é uma parte fundamental.

O branco vai ter função de contraste com todas as outras cores. É pra onde fugir quando não tiver certeza do que usar. Além disso, traz um pouco da leveza que eu procuro.

Dourado é ouro, e ouro é símbolo de riqueza, deslumbre e elegância. Porém, um cuidado a ser tomado é a linha tênue entre essas características e a breguice (que pode ser percebida em qualquer loja de bijuterias e coisas do tipo).

Por fim, considerando o ramo do negócio. Imaginei que ter uma ambientação da identidade em tecido faria muito sentido.
Blue and green are the colors of confidence and professionalism that I would like to transmit. Therefore, it is only fair that I choose a color that goes well between these two, but continuing with the sophistication that is the basis of the brand.
Black is a basic color in any brand. Whether or not he will always be there, but for "Mara Nogueira" it is a fundamental part.
White will have a contrast function with all other colors. It's the scape when you're not sure what to use. In addition, it brings some of the lightness that I wanted.
Gold is a symbol of wealth, glamor and elegance. However, a care to be taken is the fine line between these characteristics and old fashioned (which can be seen in any cheap jewelry store).
Finally, considering the line of business. I figured that having a fabric texture setting would make a lot of sense.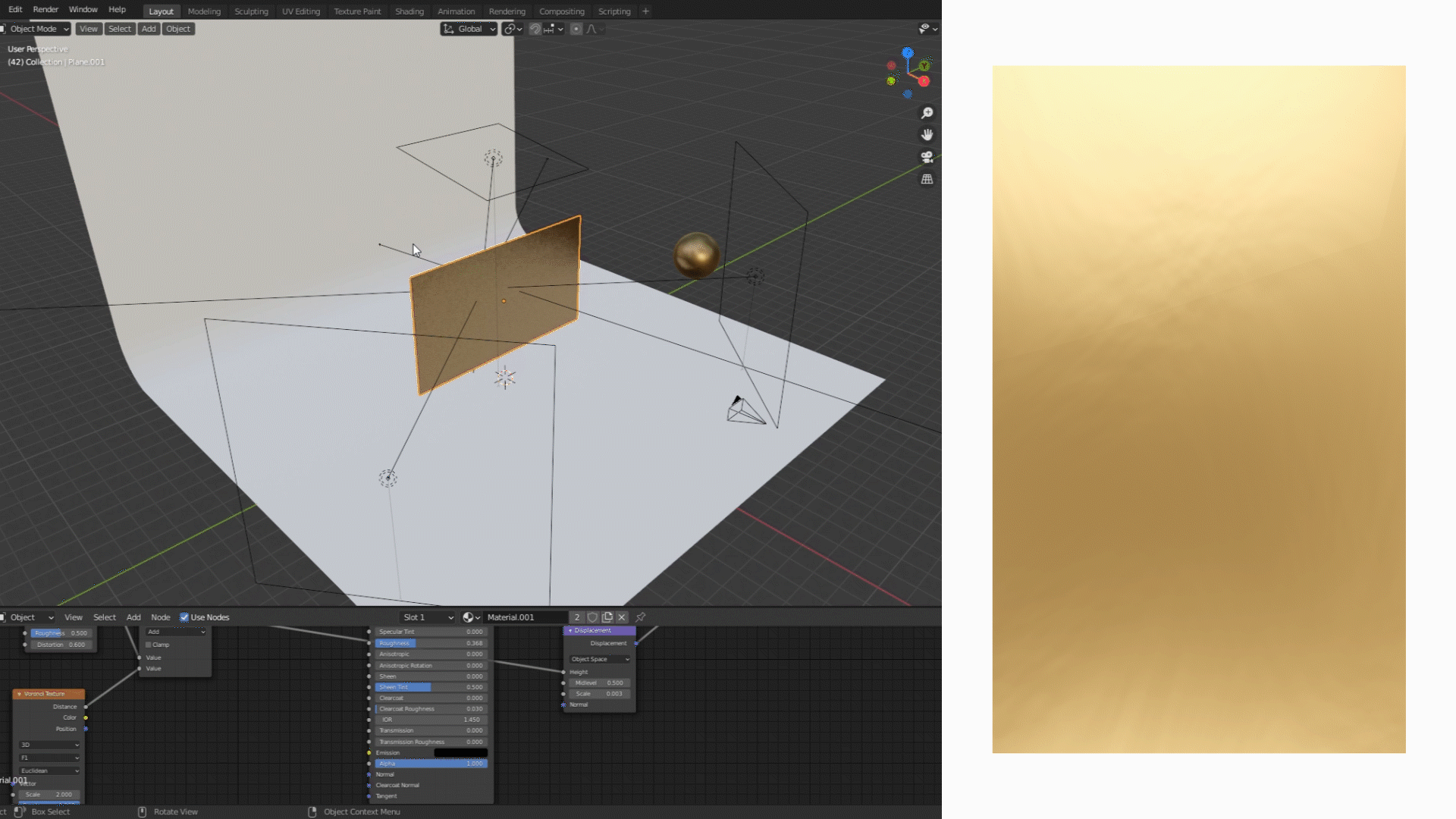 A textura de ouro foi feita no software de modelagem 3D "Blender". Optei por essa abordagem devido ao orçamento que não permitia a compra de imagens de bancos, além da originalidade que ela confere à marca. Sua versão alternativa a "deformada" foi feita com a ferramenta Dissolver do Photoshop.

The gold texture was made using the 3D modeling software "Blender". I chose this approach due to the budget that did not allow stockimages purchas. And also to the originality that it gives to the brand. Its alternative version "deformed" was made with Photoshop's liquify tool.